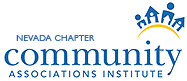 About CAI
America's advocate for responsible communities
Community Associations Institute (CAI) is a national organization dedicated to fostering vibrant, competent, harmonious community associations. For more than 40 years, CAI has been the leader in providing education and resources to the volunteer homeowners who govern community associations and the professionals who support them. Our members include community association volunteer leaders, professional managers, community management firms, and other professionals and companies that provide products and services to associations.
The Nevada Chapter of CAI serves the educational, business, and networking needs of volunteer leaders and professionals throughout the Las Vegas and Reno areas. With over 1000 members including nearly 150 business partners, over 400 professional managers and more than 400 Community Association Volunteers, the Nevada Chapter is one of the largest and most active of the 59 chapters in the nation.
The Nevada Chapter of CAI is dedicated to making our members successful and helping community associations meet the expectations of their residents.

We do this by:
(1) helping our members develop the personal and professional skills they need to be successful through an emphasis on member education,

(2) improving the image of community association professionals and volunteers through charitable work and our annual recognition of community heroes,

(3) enhancing the environment in which our members operate by putting members in contact with needed products and services.